One of the most important things to have in your game room is the right lighting. Whether it's for your bar, seating area, game table, or billiard table, you have to have the right lighting to set the mood. Impress your guests with Vintage style fixtures; add character to any type of décor with our reproduction vintage lighting .
Choosing the right lighting is important. For the pool table lights you want a fixture that gives enough light to the entire playing surface of the table. Depending on the size of your table you will need a fixture with a length that runs along the whole table, and direct the light down. The table lighting should eliminate all shadows on the table, including under the rails. When playing pool you need a consistent amount of light over the whole table.
Vintage Hardware reproduces classic billiard style lighting , and game room lighting.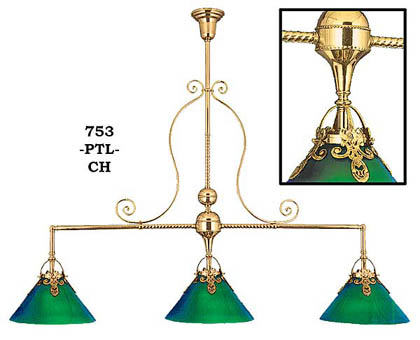 Turn of the century chandeliers with "question mark" arms were made by companies like Central Electric of Chicago, and by Bailey & Reynolds, and others. Circa 1900, perfect for a farmhouse or timber house, as well as Victorian and Edwardian decor. These lights are examples of the "question mark" design.
This powerful billiard light would have originally been used for a billiard table, but it is equally elegant across a kitchen counter or island. The decorative scrolls can be adjusted downwards and along the arms, giving a few different looks.
This light is perfect for a billiard table, elongated to deliver light evenly across your pool table or bar. With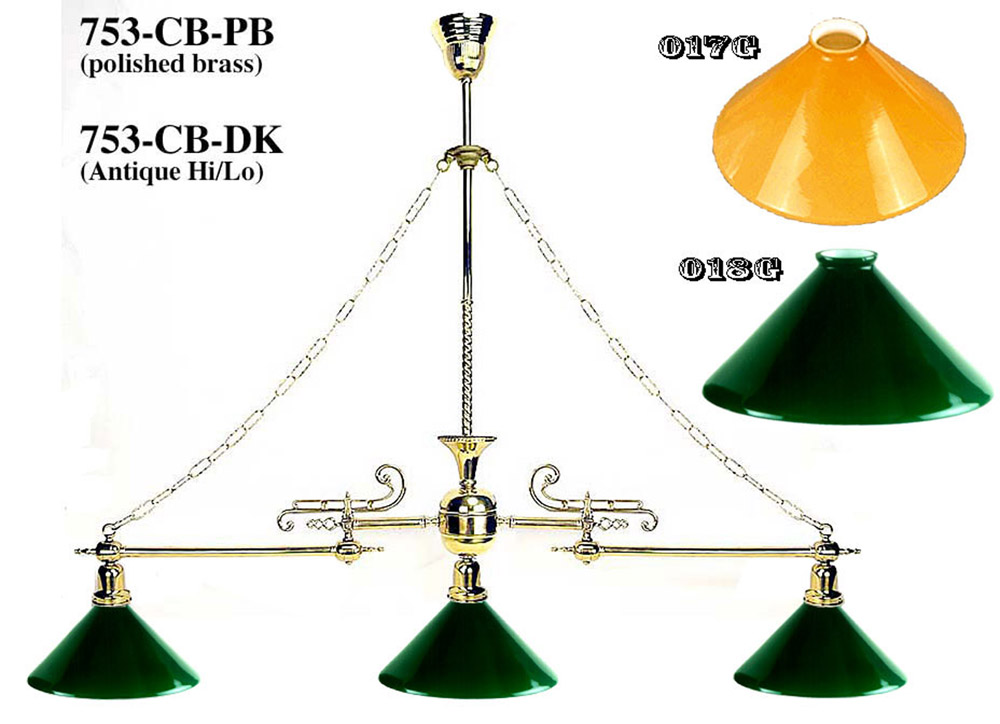 elegant arms adorned with decorative scrolls. This pool table light gives a classic look of a pool hall. Green glass cased shade, white inside. A terrific little shade, since the inside white layer puts clean white light on your task area, while the green upper layer keeps glare out of your eyes. A favorite for billiard table lights and desk lamps. Nice alternative to the standard green or white glass shade, This cased amber outside, white inside shade, has the same effect as the green shade, giving light were you need it, shielding your eyes from glare. See our entire selection of vintage glass shades .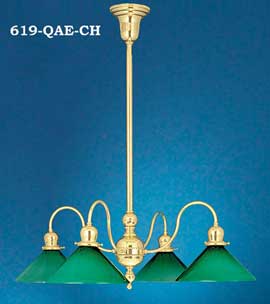 This light makes excellent card table light or work lighting. Also a simple yet elegant look for a kitchen table or island. We offer a variety of styles in the 2 1/4" fitter shades, or you can use your antique shades, this light is shown with our green billiard style shades . For Mission or Arts & crafts style homes, choose our popular Oil Rubbed Bronze finish.
See all of our classic billiard style lighting.
Sometimes the traditional Pool table and game room style lighting doesn't go with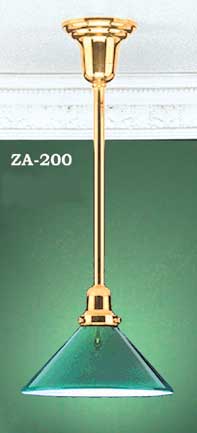 the decor of your home. Whether you have Arts and crafts, Mission, Art Deco, Art Nouveau, Victorian or Edwardian style décor, chances are we can help you find the perfect lighting to compliment your décor.
Pendant lighting is classic style lighting over bars. We offer a variety of sizes, styles and finishes. We offer our Pendant lighting with a rod stem or chain style stem, and a variety of fitters, so if you have some antique shades already you can use them on our fixtures. If you do need shades, we offer a variety of different sizes and styles. Did you know that we can put 2-light, 3-light, or 4-light sockets into our schoolhouse and pendant style lights ? As long as the shade is large enough to accommodate the bulbs, you can get up to 400 watts of light into your fixture.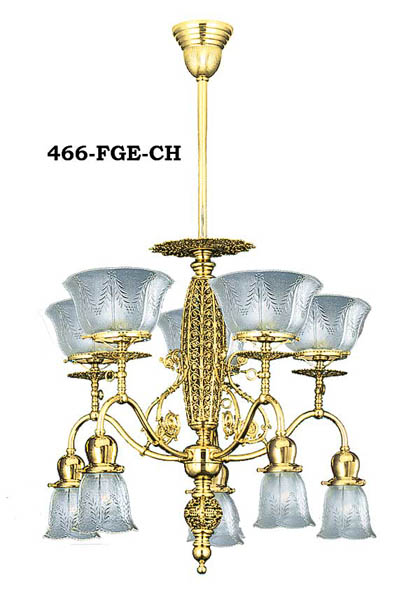 If you have a Victorian style decor in your entertainment room, Vintage Hardware makes a variety of Victorian and Rococo style lighting. With Chandeliers , Single pendants , and Sconces , you can choose the look that suits you best.
This Victorian chandelier would be perfect over a card table. Mitchell, Vance is most commonly known for their surviving Circa 1876 catalog of "Neo-Grecian" lighting, which has been reprinted by Dover Publications. About 15 years after this original catalog had been printed, the company was still making outstanding quality lighting. Among those lights were a handful of long pierced bodied chandeliers that required great skill to make. These fixtures became some of the best quality and highest priced fixtures available on the late Victorian market. The recreation of these long pierced body sections was a trade secret in 1890, and has again become one today. It took us over a year and dozens of failed molds to rediscover the secret of their production. The effort was truly worth it.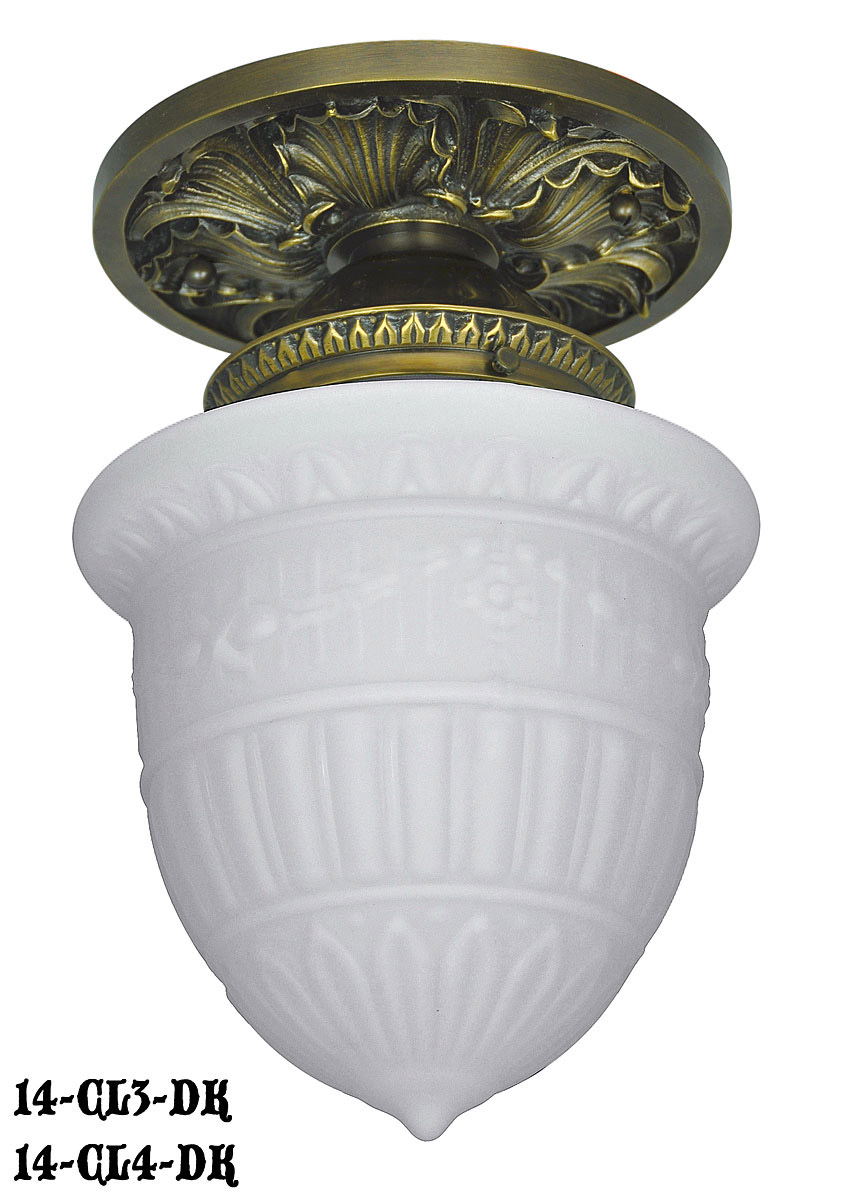 This Vintage Hardware & Lighting Exclusive: a very nice impressive solution to low ceiling lighting. This Victorian style light would look great over your game room entrance way or over your bar.. Created from antique references, we present the 14 Series. We made this special light in an Antique Brass finish, to blend with most period decor. We pulled a mold for this light from our 900-pound bronze entry doors that were made in 1870's by Winslow Brothers of Boston. Our doors originally graced the Boston Bank that was in Manhattan in the 1870's.The fitter comes from known examples at the turn of the century. Put these two items together and make them by the lost wax jewelry making process, and you have one heck of a nice light for low ceilings. Not thin metal, but heavy high relief castings that you can be proud of and that also have a known provenance.
S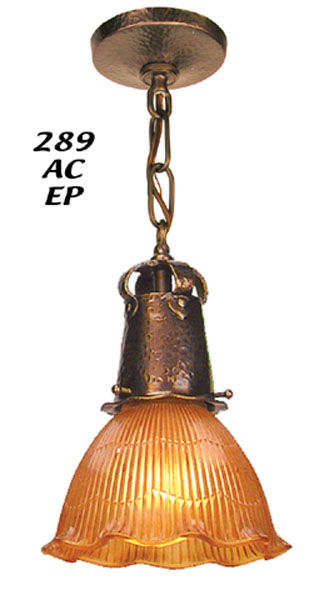 ee all of our Victorian style gas light era lighting , to complement your homes decor.
If you have an Arts and Crafts style game room, we have variety quality Arts and Crafts
style lighting.
Wouldn't this Art and Crafts pendant light look perfect sitting over your Arts and crafts style bar? Inspired by the classic hammered style of pure arts & crafts, this fixture is heavily cast, not inexpensive sheet metal. Not just an "Arts & Crafts Style" fixture, but each one a true work of art. This ceiling pendant has a 2 1/4" fitter , for a wide variety of glass shade options. By removing all but one or two links in the chain, you can have a close ceiling light.. This light also comes with a matching Arts and Crafts sconce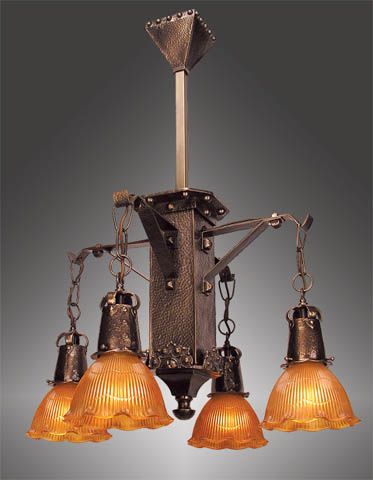 Perfect for a game table The J. Morgan Arts and Crafts Chandelier is inspired by the classic hammered styles of pure "arts & crafts". Our authentic reproduction is hand cut from thick, solid sheets of copper, and hammered thousands of blows. Made one at a time for you! It gets quite a lot of attention in our showroom, and looks every bit as authentic as an original from early 1900's.
Check out our all of our Arts and Crafts Style Lighting.
This antique chandelier is probably the most bar like light any one has ever made. Fantastic and RARE five light theme chandelier from Gill Manufacturing Circa 1930. This light is a genuine antique, we only have one of these lights so once its gone, its gone.. Gill called this series, that used a keg motif for a shade, "Novel Lighting Fixtures ". In his catalog he says that these fixtures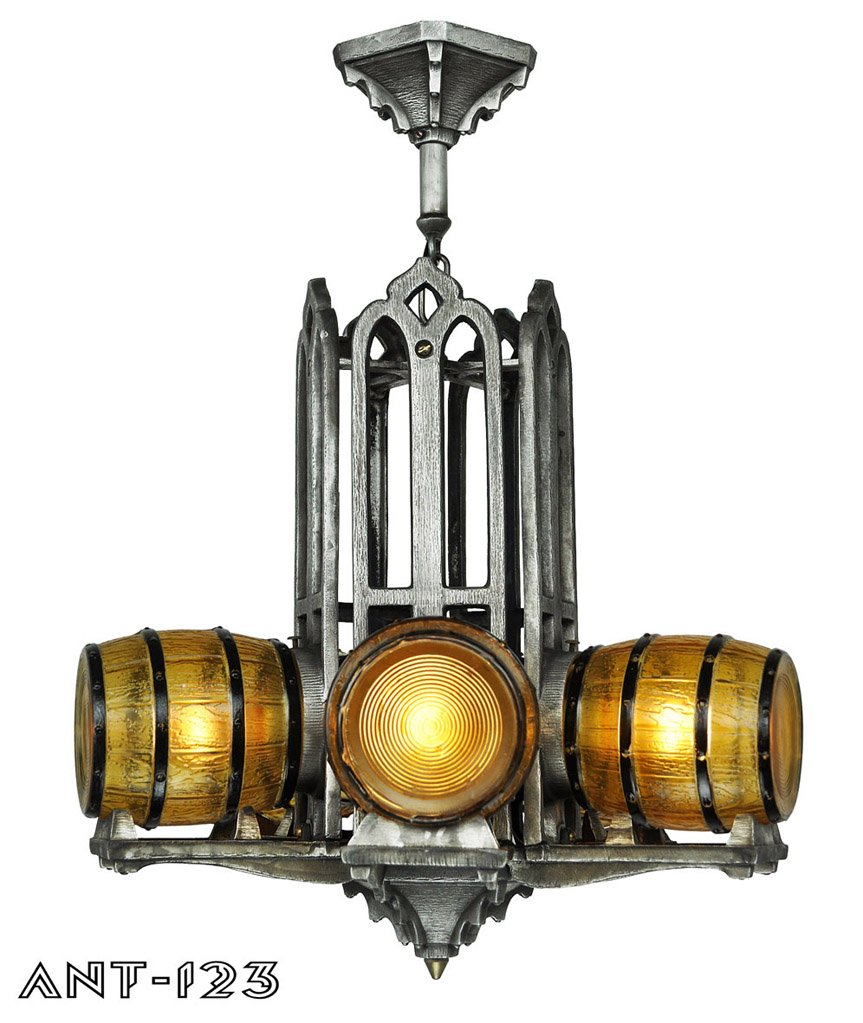 were for "Taverns", "Rathskellers" and "Tap Rooms". He brags in the '30s catalog, that the glass keg shades are true reproductions of real wood carvings. The series did contain single shade light fixtures of various sizes but this chandelier was top of the line. This light would make a great conversation piece in your wine cellar tasting room too.
Which ever style lighting you are looking to match the décor in your game room, or over your bar, look to Vintage Hardware , with hundreds of different high quality lighting options. If you can not find what you are looking for, or are looking to match existing lighting, we also do custom work, so we can reproduce your antique light fixtures for you.
See all of our vintage lighting for your game room, pool table, or bar at vintagehardware.com