Here at Vintage Hardware and Lighting we reproduce quality Mission style lighting . When you need , you have to keep quality in mind first and foremost. Too many people get caught up on price and think that the lighting that is the lowest price is also the best value. However, if you get lights that don't function as they should, or that aren't true to their heritage, you'll quickly realize that you didn't get the best value after all. Look for high quality standards above all other factors when choosing your lighting source, as lighting in your home or business is an investment.
Mission Revival lights are great with Bungalow, Arts & Crafts, Timberframe, Log, and even rustic contemporary homes. First recognized in California & Spanish architecture , original mission lighting was made of brass or copper.
Our authentic mission reproductions are a sampling of the long-lasting, top quality Mission style lights from this period. We include mission chandeliers, craftsman chandeliers, Mission sconces, mission close ceiling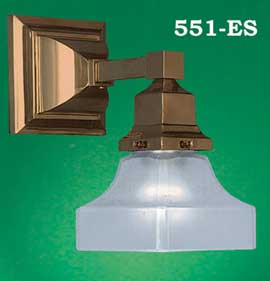 lights , mission floor & table lamps , and mission newel post lights , for a complete selection in this popular style. The height of Mission decor was 1890-1915 – with frequent revivals. Today the best-selling light fixtures for new home construction are Mission or Craftsman lighting. If you're builder cut corners on your lighting and home hardware, you can improve the value of your home by upgrading to quality brass or copper lights in authentic Arts and Crafts or Mission reproductions .
Truly a classic, this Mission sconce is at home with almost every style decor. The squared fitters look great in contemporary settings, as well as Mission. Try this in your log home! Available in four finishes: antiqued brass,polished unlacquered brass, oil rubbed bronze, or nickel finish. This fixture can also be hung with the shade facing up, for a gaslight appearance. Shown with our short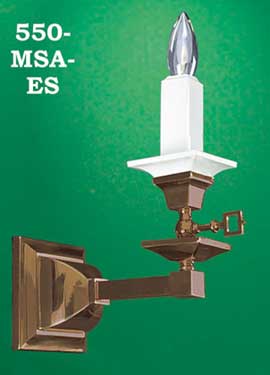 mission shade , sold separately, you can change the look with an Arts and Crafts shade , or milk glass shade that gives it a colonial revival look.
This Mission style candle sconce is one of the earliest gas fixtures around 1840 was a candle shape, with a porcelain candle tube , and "drip saver ", familiar to everyone who had used candle light for generations. This fixture offers a way to light the hallway, bedroom, or bathroom in very little space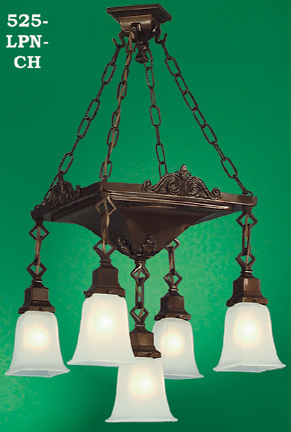 but tons of charm.
Large rare shaped pan measures just under 14" square. Note the lovely Lost Wax cast center decor and the side panels. All absolutely authentic in every detail. This five light Mission chandelier is also available with art glass metal shades in both the diamond and chain patterns originally made by Sechrist of Denver, Circa 1900.
Fixture uses 2 1/4" fitter shades . Shades are sold separately. We picture 083G as a suggestion, but have over a dozen shades that would fit this chandelier.
Very close ceiling "Mission" light. Diamond and chain pattern lights were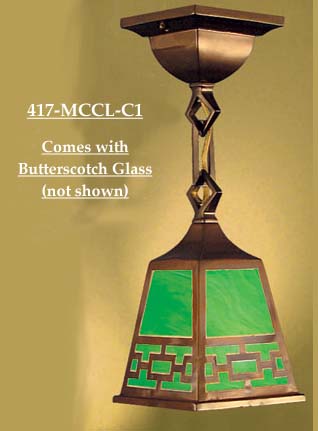 originally made by Sechrist of Denver, circa 1900. Our quality brass reproductions are authentic in every detail. Fixture comes in butterscotch glass, green (as shown), and white glass. If you have a single antique shade with 2 ¼" fitter , we make this light with a fitter, although the fitter appears square it uses round top shades.
This is a single 4" fitter shade mission style newel post light. Our fixture is shown in the darkened "antiqued" finish. Perfect for your

entryway, at the bottom of the stairs. Arts & Crafts and bungalow homes look great with this decorative touch. Choose from our polished, unlacquered brass which is the original finish used at the turn of the century, and it will age gracefully over time. Or give Mother Nature a little help with oxidation by selecting our already darkened "antique" finish, or an oil rubbed bronze finish.
This Mission table lamp has more than enough light for reading or task lighting. Our fine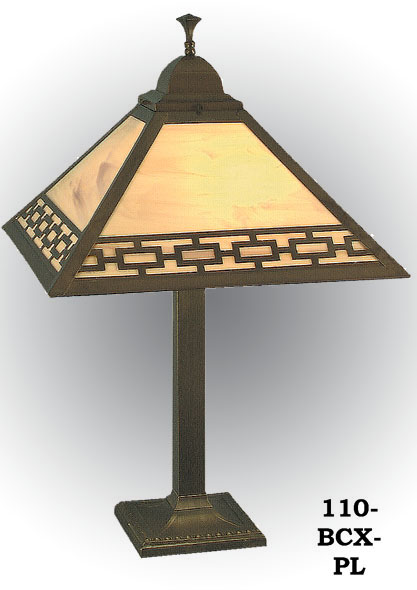 Mission table or desk light is just the right touch of ambiance for a living room, library, or family room. Try one on each nightstand as a reading light. Two brass pull chain sockets are operated separately, so you control the amount of light used, and we've installed a polarized plug.
With four hundred watts of light, this Mission floor lamp has more than enough light for reading or task lighting. Our fine Mission floor light is just the right touch of ambiance for a living room, library, or family room. Four brass pull chain sockets are operated separately, so you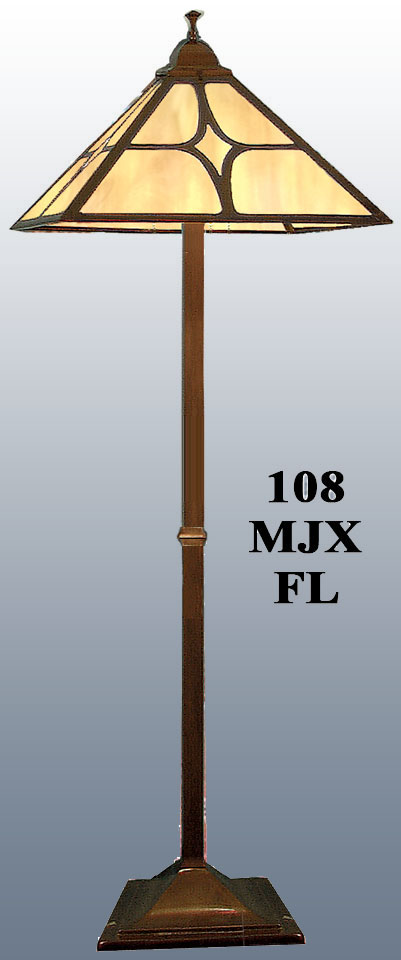 control the amount of light used, up to 400 watts incandescent.
Choose from marble white, green, or butterscotch (pictured) glass by using the drop down menu. The brass shade frame is the classic "J" or diamond design, originating with Sechrist of Colorado at the turn of the century.
Like all our high end lighting, this is made of top quality brass, darkened to an antique finish to work with Arts & Crafts , Bungalow , and Mission decor. The base contains a heavy cast iron load to maintain stability. We offer matching ceiling lights , table lamps , and sconces in three art glass colors.
Here at Vintage Hardware we have a big selection of mission style lighting and mission style home hardware to suit your taste, décor, and needs. See our entire selection at Vintagehardware.com