Make Sure You're Buying Quality! When it comes to schoolhouse lights and pendant lighting , it can be tempting to choose a cheap option, every discount dept. store and hardware store has cheaply made versions of schoolhouse lights . You likely have many other rehab projects going on at the same time, and many people think that it doesn't really make that much of a difference. However, the quality of lighting in your building or home can change the entire mood.
When you choose a quality supplier who pays attention to the little details, it can really turn a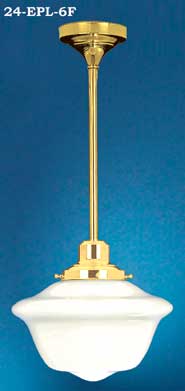 room from average into truly breath taking and authentic. The company you choose should be experienced in the field, and providing authentic replica antique schoolhouse lights requires many years of research and a deep understanding of vintage lighting needs. Don't choose a company who's just breaking into the field and will use your project as an opportunity to figure it all out.
Schoolhouse and Pendant lighting looks great in your kitchen. Hanging over a center island or bar can add an elgant touch. For dramatic effect hang a series of pendant lights at different lengths to add demension, character and draw your eye around the room.
You're likely to have the best experience if you choose a company that doesn't just do this for the money, but really is committed and dedicated to creating authentic vintage replicas. You should also consider who their previous customers have been, as that's often an indicator of how passionate they are. For example, when you find out that we have worked on television and movie sets, and in the White House and capitol historic restoration, you'll realize that's a pretty good indicator that we're doing reliable quality work.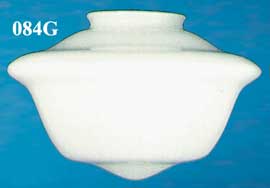 The right fixture and shade on your schoolhouse light or pendant light can make all the difference on your project. we use quality opal glass shades are not just clear glass sprayed white. See our art deco style shades like the 0100g and the 098g , giving your light more personality and depth than regular round globes.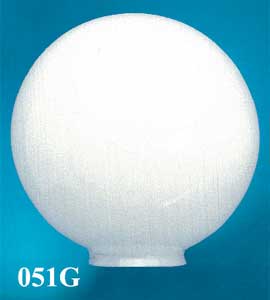 We offer schoolhouse lights that are hung from a chain, or using a "pipe" or rod, different size fitters, and in several metal finishes. Choose a company that's been working with these projects for many years and who is on the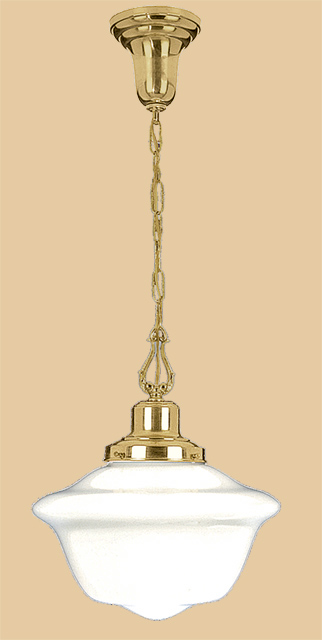 cutting edge of technology for "green" savings, as well as a vintage look We offer the new univeral 4-prong CF bulbs and socket for long term economy, four start energy rated.
When you buy one of our fixtures you have the option ofone of our hand applied finishes , choose from our classic Polished Brass, left unlacquered, it naturally ages and develops a lovely patina. Our Antique Brass Finish is very popular, giving the brass an aged look that blends well with existing old lighting and hardware. Our Oil Rubbed bronze finish gives the fixture a deep almost black finish, that when the light hits just right, looks lovely. We also offer a Pewter finish; this gives the light a muted silver tone, and a nickel plated brass, for a more modern, "clean" look. .
See all of our Schoolhouse lighting and Pendant lighting at vintagehardware.com